(Possible) Top Secret Military Research
Invisibility
Yes, of course, why WOULDN'T the military be interested in invisibility technology??? Stealth and cloaking technologies were developed at Groom in the 1980s, and though we have no evidence or information about any specific programs, there are some rumors…
There are two types of materials that science has discovered which could enable such technologies: Quasicrystals and Metamaterials.
Metamaterial can have a negative refractive index. The subset of metamaterials which have a negative refractive index are called "left-handed materials". Left-handed materials can be used to create invisibility cloaks if they can completely encapsulate the object.
The 2011 Nobel Prize in Chemistry was awarded to Daniel Shectman for the discovery of quasicrystals.
Quasi crystals are promising candidates for high energy storage materials, metal matrix components, thermal barriers, exotic coatings, infrared sensors, high power laser applications, and electro magnetics. Some high strength alloys and surgical tools are already on the market.
Here are links to some of my science pages on these subjects:
Anti-Gravity
There are many rumors and speculation going around about Top Secret Research Programs into Antigravity Technology. One famous example is the Aurora Project.
---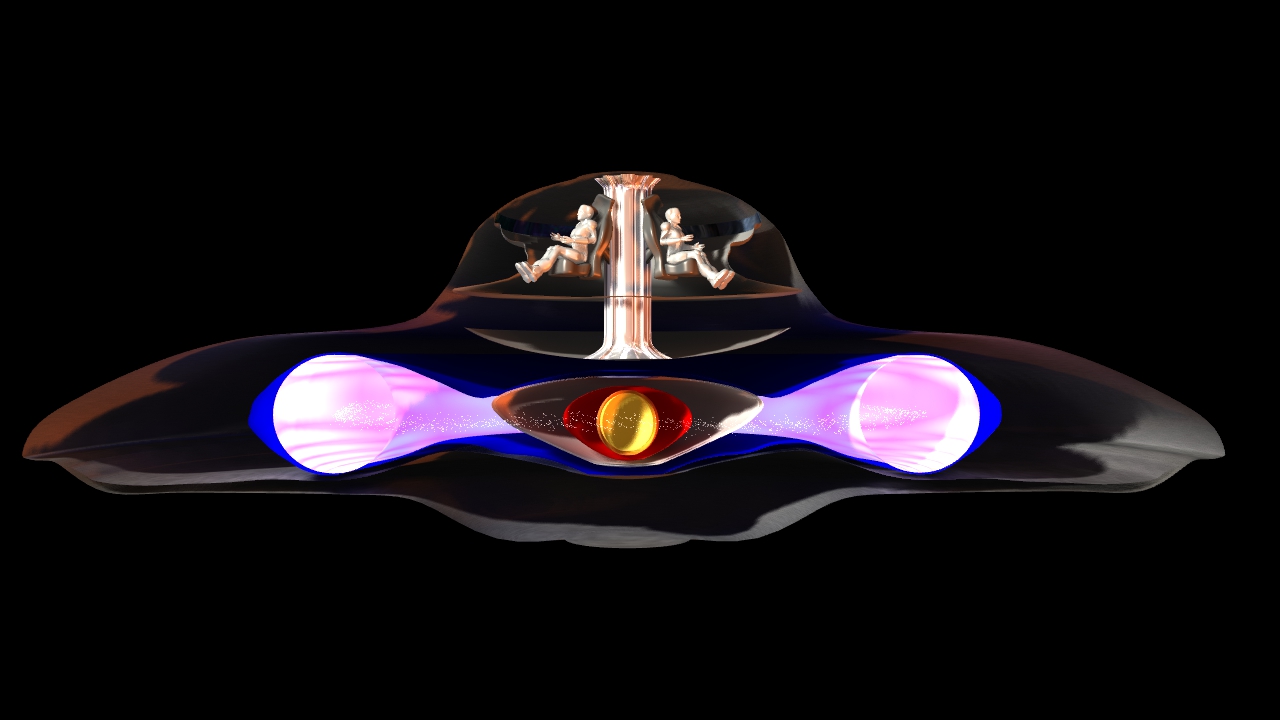 The Aurora Project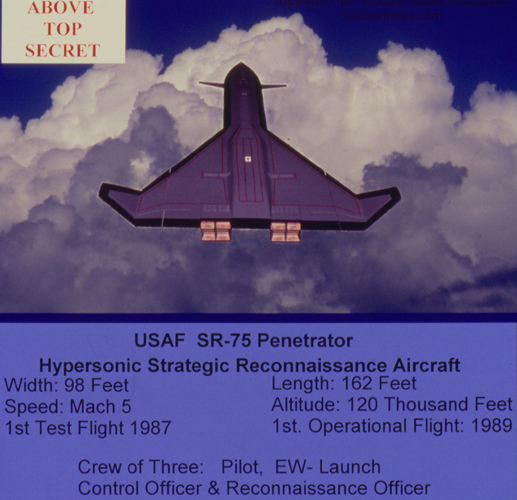 Aurora was a mid-1980s American reconnaissance aircraft development project, that did a large amount of research into triangular shaped aircraft including the B-2 Advanced Technology Bomber (the one that uses the gravito-electric T.T. Brown Effect for additional lift), The SR-91, The SR-75 Penetrator, and the TR-3B Astra or TR-3 Black Manta.
The U.S. government has consistently denied such an aircraft was ever built. Aviation and space reference site Aerospaceweb.org concluded, "The evidence supporting the Aurora is circumstantial or pure conjecture, there is little reason to contradict the government's position." Former Skunk Works director Ben Rich confirmed that "Aurora" was simply a myth in "Skunk Works", a book detailing his days as the director. Mr. Rich wrote that a young colonel working in the Pentagon arbitrarily assigned the name "Aurora" to the funding for the B-2 bomber design competition and somehow the name was leaked to the media.
Others come to different conclusions. In 2006, veteran black project watcher and aviation writer Bill Sweetman said, "Does Aurora exist? Years of pursuit have led me to believe that, yes, Aurora is most likely in active development, spurred on by recent advances that have allowed technology to catch up with the ambition that launched the program a generation ago."
The TR-3B and Flying Triangles
The TR-3 Black Manta is the name of a surveillance aircraft of the United States Air Force, speculated to be developed under a black project. The only known confirmed evidence for such an aircraft is based on speculations about several reported sightings of mysterious flying wing aircraft over Antelope Valley, an area of desert in southern California. This stretch of desert draws people interested in potential "black project"-related aircraft, because it is close to several known military research and testing areas, such as Edwards Air Force Base in California, and United States Air Force Plant 42
The TR-3 was said to be a subsonic stealth spy plane with a flying wing design. It was alleged to have been used in the Gulf War to provide laser designation for Lockheed F-117 Nighthawk bombers, for targeting to use with laser-guided bombs. The TR-3 was claimed to have been manufactured by Northrop.
How the TR-3 designation came up in publications is unclear. It is clearly not a continuation of the R-for-Reconnaissance series, since ER-2 (NASA designation for U-2 aircraft modified for Earth science studies) stood for "Earth Resources", not "Electronic Reconnaissance". It is, therefore possible that TR-3 is merely a corruption of Tier III, a name given to a cancelled large reconnaissance unmanned aerial vehicle (UAV) flying wing designed around the time of alleged sightings of the Black Manta, circa 1988–1990. The Tier III Minus program that resulted in the unsuccessful Lockheed Martin RQ-3 DarkStar was a scaled-down derivative of the original Tier III.
Because there is little evidence to support TR-3's existence, only sightings and "experience" stories by real people and also the web discussions on it, it is possible that the mysterious flying wing sightings associated with Black Manta could be a technology demonstrator for a potential new-generation tactical reconnaissance aircraft. This contention is supported by United States Air Force (USAF) sources in the late 1980s confirming that the United States had no short-term plans to develop a low-observable U-2 successor.
Another candidate for the alleged spy plane is a design from Teledyne Ryan, patented in the United States on April 26, 1977, under number 4,019,699. This aircraft of low observability, as it is called, was invented by Robert W. Wintersdorff and George R. Cota, employees at Teledyne Ryan, a firm specialized in building unmanned reconnaissance aircraft. On May 10, 1977, a design of an aircraft was patented by Teledyne Ryan under number Des. 244,265, and closely resembles the earlier mentioned example. This design was made by Waldo Virgil Opfer. The first design is unmanned, the second one manned. Whether one of these designs is related to the above-mentioned TR-3 is not positively identified, but it is a coincidence that TR also stands for Teledyne Ryan. Teledyne Ryan was acquired by Northrop Grumman in 1999.
Outside Sources and Information on Area 51:
General
Maps and photographs
---
U.S. government's positions on Area 51
The federal government explicitly concedes (in various court filings and government directives) that the USAF has an "operating location" near Groom Lake, but does not provide any further information.
Unlike much of the Nellis range, the area surrounding the lake is permanently off-limits both to civilian and normal military air traffic. Radar stations protect the area, and unauthorized personnel are quickly expelled. Even military pilots training in the NAFR risk disciplinary action if they stray into the exclusionary "box" surrounding Groom's airspace.[12][26]
---
Wikipedia on Area 51
Area 51 is a military base, and a remote detachment of Edwards Air Force Base. It is located in the southern portion of Nevada in the western United States, 83 miles (133 km) north-northwest of downtown Las Vegas. Situated at its center, on the southern shore of Groom Lake, is a large secretive military airfield. The base's primary purpose is to support development and testing of experimental aircraft and weapons systems.[1][2]

The base lies within the United States Air Force's vast Nevada Test and Training Range. Although the facilities at the range are managed by the 99th Air Base Wing at Nellis Air Force Base, the Groom facility appears to be run as an adjunct of the Air Force Flight Test Center (AFFTC) at Edwards Air Force Base in the Mojave Desert, around 186 miles (300 km) southwest of Groom, and as such the base is known as Air Force Flight Test Center (Detachment 3).[3][4]

Though the name Area 51 is used in official CIA documentation,[5] other names used for the facility include Dreamland, Paradise Ranch,[6][7] Home Base, Watertown Strip, Groom Lake,[8] and most recently Homey Airport.[9] The area is part of the Nellis Military Operations Area, and the restricted airspace around the field is referred to as (R-4808N),[10] known by the military pilots in the area as "The Box" or "the Container".[11]

The intense secrecy surrounding the base, the very existence of which the U.S. government barely acknowledges, has made it the frequent subject of conspiracy theories and a central component to unidentified flying object (UFO) folklore.[7][12]
Runways
Direction
Length
Surface
ft
m
14L/32R
12,000
3,658
Asphalt
12/30
5,420
1,652
Asphalt
09L/27R
11,440
3,489
Salt
09R/27L
11,440
3,489
Salt
03L/21R
10,030
3,057
Salt
03R/21L
10,030
3,057
Salt
14R/32L
23,270
7,093
Closed
Geography
The same "Area xx" naming scheme is used for other parts of the Nevada Test Site.[14][15]
The original 6-by-10 mile (10 by 16 km) rectangular base is now part of the so-called "Groom box", a 23-by-25.3 mile (37 by 40.7 km) rectangular area of restricted airspace. The area is connected to the internal NTS road network, with paved roads leading south to Mercury and west to Yucca Flat. Leading northeast from the lake, the wide and well-maintained Groom Lake Road runs through a pass in the Jumbled Hills. The road formerly led to mines in the Groom basin, but has been improved since their closure. Its winding course runs past a security checkpoint, but the restricted area around the base extends further east. After leaving the restricted area, Groom Lake Road descends eastward to the floor of the Tikaboo Valley, passing the dirt-road entrances to several small ranches, before converging with State Route 375, the "Extraterrestrial Highway",[16] south of Rachel.
Operations at Groom Lake
Groom Lake is not a conventional airbase, as frontline units are not normally deployed there. It instead appears to be used during the development, testing, and training phases for new aircraft. Once these aircraft have been approved by the United States Air Force or other agencies such as the CIA, operation of that aircraft is generally conducted from a normal air force base.
Soviet spy satellites obtained photographs of the Groom Lake area during the height of the Cold War, and later civilian satellites produced detailed images of the base and its surroundings. These images support only modest conclusions about the base, depicting a nondescript base, long airstrip, hangars and the lake.
Satellite view of Area 51 from 1968
U-2 program
Groom Lake was used for bombing and artillery practice during World War II, but was then abandoned until April 1955, when it was selected by Lockheed's Skunk Works team as the ideal location to test the forthcoming U-2 spy plane.[17][18] The lakebed made an ideal strip from which they could operate the troublesome test aircraft, and the Emigrant Valley's mountain ranges and the NTS perimeter protected the test site from prying eyes and outside interference.
Lockheed constructed a makeshift base at the location, then known as Site II or "The Ranch", consisting of little more than a few shelters, workshops and trailer homes in which to house its small team. In only three months a 5,000-foot (1,500 m) runway was constructed[17] and was servicable by July 1955. The Ranch received its first U-2 delivery on July 24, 1955 from Burbank on a C-124 Globemaster II cargo plane, accompanied by Lockheed technicians on a Douglas DC-3.[17] The first U-2 lifted off from Groom on August 4, 1955. A U-2 fleet under the control of the CIA began overflights of Soviet territory by mid-1956.
During this period, the NTS continued to perform a series of atmospheric nuclear explosions. U-2 operations throughout 1957 were frequently disrupted by the Plumbbob series of atomic tests, which detonated over two-dozen devices at the NTS. The Plumbbob-Hood explosion on July 5 scattered fallout across Groom and forced a temporary evacuation.
The OXCART program
| | |
| --- | --- |
| | Even before U-2 development was complete, Lockheed began work on its successor as part of the CIA's OXCART project, involving the A-12, a Mach-3 high altitude reconnaissance aircraft — a later variant of which became the famed USAF SR-71 Blackbird. This aircraft flight characteristics and maintenance requirements forced a massive expansion of facilities and runways at Groom Lake in 1960 since the aircraft required an 8,000-foot (2,400 m) runway and additional infrastructure.[19] The main runway was lengthened from 5,000 to 8,500 ft (1,500 to 2,600 m) in autumn 1960.[19] Preparations began for the arrival of OXCART in early 1962: |
The FAA agreed to close off airspace around Groom Lake, security was greatly enhanced, and the small civilian mine in the Groom basin was closed. The facility received eight F-101s for training, two T-33s for proficiency flying, a C-130 for cargo transport, a U-3A for administrative purposes, a helicopter for search and rescue, and a Cessna-180 for liaison use, and Lockheed provided an F-104 chase plane.[19] The first OXCART was covertly trucked to the base in February 1962, assembled, and it made its first flight 26 April 1962. At the time, the base boasted a complement of over 1,000 personnel. It had fueling tanks, a control tower, and a baseball diamond. Groom saw the first flight of most major Blackbird variants: A-12, the abortive YF-12 interceptor variant, and the D-21 Blackbird-based drone project. The A-12 would remain at Groom Lake until 1968 and occasionally deployed to other United States bases overseas.[5] The SR-71 Blackbird, by contrast, first flew at Palmdale, California in December 1964, and Palmdale and Edwards AFB served as the primary operation sites for that model until Beale Air Force Base became active in early 1966.
Have Blue/F-117 program

The Lockheed Have Blue prototype stealth fighter (a smaller proof-of-concept model of the F-117 Nighthawk) first flew at Groom in December 1977.[20] Testing of a series of ultra-secret prototypes continued there until mid-1981, when testing transitioned to the initial production of F-117 stealth fighters. In addition to flight-testing, Groom performed radar profiling, F-117 weapons testing, and was the location for training of the first group of frontline USAF F-117 pilots. Subsequently, the still highly classified active-service F-117 operations moved to the nearby Tonopah Test Range Airport, and finally to Holloman Air Force Base.
Later operations
Since the F-117 became operational in 1983, operations at Groom Lake have continued. The base and its associated runway system were expanded.[21][22] In 1995, the federal government expanded the exclusionary area around the base to include nearby mountains that had hitherto afforded the only decent overlook of the base, prohibiting access to 3,972 acres (16.07 km2) of land formerly administered by the Bureau of Land Management.[21]
Commuter service is provided along Groom Lake Road by a bus, catering to a small number of employees living in several small communities beyond the NTS boundary (although it is not clear whether these workers are employed at Groom or at other facilities in the NTS). The bus travels Groom Lake Road and stops at Crystal Springs, Ash Springs, and Alamo, and parks at the Alamo courthouse overnight.
Runways
The base has seven runways including one that now appears to be closed. The closed runway, 14R/32L, is also by far the longest with a total length of approximately 23,300 feet (7,100 m), not including stopway. The other runways are two asphalt runways, the 14L/32R with a length of 12,000 feet (3,700 m) and 12/30 with a length of 5,400 feet (1,600 m), and four runways located on the salt lake. These four runways are 09L/27R and 09R/27L, which are both approximately 11,450 feet (3,490 m), and 03L/21R and 03R/21L, which are both approximately 10,000 feet (3,000 m). The base also has a helipad.[23][24]
In December 2007, airline pilots noticed that the base had appeared in their aircraft navigation systems' latest Jeppesen database revision with the ICAO airport identifier code of KXTA and listed as "Homey Airport".[25] The probably inadvertent release of the airport data led to advice by the Aircraft Owners and Pilots Association (AOPA) that student pilots should be explicitly warned about KXTA, not to consider it as a waypoint or destination for any flight even though it now appears in public navigation databases.[25]
| | |
| --- | --- |
| | Perimeter security is provided by uniformed private security guards working for EG&G's security subcontractor Wackenhut,[27] who patrol in desert camouflage Jeep Cherokees and Humvees, and more recently, champagne-colored Ford F-150 pickups and gray Chevrolet 2500 4X4 pickups. Although the guards are armed with M16s, no violent encounters with Area 51 observers have been reported; instead, the guards generally follow visitors near the perimeter and radio for the Lincoln County Sheriff. Deadly force is authorized if violators who attempt to breach the secured area fail to heed warnings to halt. Fines of around $600 seem to be the normal course of action, although some visitors and journalists report receiving follow-up visits from FBI agents. Some observers have been detained on public land for pointing camera equipment at the base. Surveillance is supplemented using buried motion sensors.[28] |
The base does not appear on public U.S. government maps;[29] the USGS topographic map for the area only shows the long-disused Groom Mine.[30] A civil aviation chart published by the Nevada Department of Transportation shows a large restricted area,[31] but defines it as part of the Nellis restricted airspace. The official aeronautical navigation charts for the area show Groom Lake but omit the airport facilities.[32] Similarly the National Atlas page showing federal lands in Nevada[33] does not distinguish between the Groom block and other parts of the Nellis range. Although officially declassified, the original film taken by U.S. Corona spy satellite in the 1960s has been altered prior to declassification; in answer to freedom of information queries, the government responds that these exposures (which map to Groom and the entire NAFR) appear to have been destroyed.[34] Terra satellite images (which were publicly available) were removed from web servers (including Microsoft's "Terraserver") in 2004,[35] and from the monochrome 1 m resolution USGS data dump made publicly available. NASA Landsat 7 images are still available (these are used in the NASA World Wind). Higher resolution (and more recent) images from other satellite imagery providers (including Russian providers and the IKONOS) are commercially available. These show, in considerable detail, the runway marking, base facilities, aircraft, and vehicles.
Although federal property within the base is exempt from state and local taxes, facilities owned by private contractors are not. Area 51 researcher Glenn Campbell claimed in 1994 that the base only declares a taxable value of $2 million to the Lincoln County tax assessor, who is unable to enter the area to perform an assessment.[36]
Environmental lawsuit
In 1994, five unnamed civilian contractors and the widows of contractors Walter Kasza and Robert Frost sued the USAF and the United States Environmental Protection Agency. Their suit, in which they were represented by George Washington University law professor Jonathan Turley, alleged they had been present when large quantities of unknown chemicals had been burned in open pits and trenches at Groom. Biopsies taken from the complainants were analyzed by Rutgers University biochemists, who found high levels of dioxin, dibenzofuran, and trichloroethylene in their body fat. The complainants alleged they had sustained skin, liver, and respiratory injuries due to their work at Groom, and that this had contributed to the deaths of Frost and Kasza. The suit sought compensation for the injuries they had sustained, claiming the USAF had illegally handled toxic materials, and that the EPA had failed in its duty to enforce the Resource Conservation and Recovery Act (which governs handling of dangerous materials.) They also sought detailed information about the chemicals to which they were allegedly exposed, hoping this would facilitate the medical treatment of survivors. Congressman Lee H. Hamilton, former chairman of the House Intelligence Committee, told 60 Minutes reporter Leslie Stahl, "The Air Force is classifying all information about Area 51 in order to protect themselves from a lawsuit."[37]
Citing the State Secrets Privilege, the government petitioned trial judge U.S. District Judge Philip Pro (of the United States District Court for the District of Nevada in Las Vegas) to disallow disclosure of classified documents or examination of secret witnesses, alleging this would expose classified information and threaten national security.[38] When Judge Pro rejected the government's argument, President Bill Clinton issued a Presidential Determination, exempting what it called, "The Air Force's Operating Location Near Groom Lake, Nevada" from environmental disclosure laws. Consequently, Pro dismissed the suit due to lack of evidence. Turley appealed to the U.S. Court of Appeals for the Ninth Circuit, on the grounds that the government was abusing its power to classify material. Secretary of the Air Force Sheila E. Widnall filed a brief that stated that disclosures of the materials present in the air and water near Groom "can reveal military operational capabilities or the nature and scope of classified operations." The Ninth Circuit rejected Turley's appeal,[39] and the U.S. Supreme Court refused to hear it, putting an end to the complainants' case.
The President continues to annually issue a determination continuing the Groom exception.[40][41][42] This, and similarly tacit wording used in other government communications, is the only formal recognition the U.S. Government has ever given that Groom Lake is more than simply another part of the Nellis complex.
An unclassified memo on the safe handling of F-117 Nighthawk material was posted on an Air Force website in 2005. This discussed the same materials for which the complainants had requested information (information the government had claimed was classified). The memo was removed shortly after journalists became aware of it.[43]
1974 Skylab photography
| | |
| --- | --- |
| | In January 2006, space historian Dwayne A. Day published an article in online aerospace magazine The Space Review titled "Astronauts and Area 51: the Skylab Incident." The article was based on a memo written in 1974 to CIA director William Colby by an unknown CIA official. The memo reported that astronauts on board Skylab 4 had, as part of a larger program, inadvertently photographed a location of which the memo said: |
There were specific instructions not to do this. <redacted> was the only location which had such an instruction.
Although the name of the location was obscured, the context led Day to believe that the subject was Groom Lake. As Day noted:
The memo details debate between federal agencies regarding whether the images should be classified, with Department of Defense agencies arguing that it should, and NASA and the State Department arguing against classification. The memo itself questions the legality of unclassified images to be retroactively classified.
Remarks on the memo,[46] handwritten apparently by DCI (Director of Central Intelligence) Colby himself, read:
He did raise it—said State Dept. people felt strongly. But he inclined leave decision to me (DCI)—I confessed some question over need to protect since:

USSR has it from own sats
What really does it reveal?
If exposed, don't we just say classified USAF work is done there?
The declassified documents do not disclose the outcome of discussions regarding the Skylab imagery. The behind-the-scenes debate proved moot as the photograph appeared in the federal government's archive of satellite imagery along with the remaining Skylab 4 photographs, with no record of anyone noticing until Day identified it in 2007.[47]
UFO and other conspiracy theories concerning Area 51
Its secretive nature and undoubted connection to classified aircraft research, together with reports of unusual phenomena, have led Area 51 to become a focus of modern UFO and conspiracy theories. Some of the activities mentioned in such theories at Area 51 include:
Many of the hypotheses concern underground facilities at Groom or at Papoose Lake, 8.5 miles (13.7 km) south, and include claims of a transcontinental underground railroad system, a disappearing airstrip (nicknamed the "Cheshire Airstrip", after Lewis Carroll's Cheshire cat) which briefly appears when water is sprayed onto its camouflaged asphalt,[48] and engineering based on alien technology. Publicly available satellite imagery, however, reveals clearly visible landing strips at Groom Dry Lake, but not at Papoose Lake.
Veterans of experimental projects such as OXCART and NERVA at Area 51 agree that their work (including 2,850 OXCART test flights alone) inadvertently prompted many of the UFO sightings and other rumors:[7]
The shape of OXCART was unprecedented, with its wide, disk-like fuselage designed to carry vast quantities of fuel. Commercial pilots cruising over Nevada at dusk would look up and see the bottom of OXCART whiz by at 2,000-plus mph. The aircraft's titanium body, moving as fast as a bullet, would reflect the sun's rays in a way that could make anyone think, 

UFO

.

[7]
They believe that the rumors helped maintain secrecy over Area 51's actual operations.[12] While the veterans deny the existence of a vast underground railroad system, many of Area 51's operations did (and presumably still do) occur underground.[7]
Several people have claimed knowledge of events supporting Area 51 conspiracy theories. These have included Bob Lazar, who claimed in 1989 that he had worked at Area 51's S-4 (a facility at Papoose Lake), where he was contracted to work with alien spacecraft that the U.S. government had in its possession.[49] Similarly, the 1996 documentary Dreamland directed by Bruce Burgess included an interview with a 71 year old mechanical engineer who claimed to be a former employee at Area 51 during the 1950s. His claims included that he had worked on a "flying disc simulator" which had been based on a disc originating from a crashed extraterrestrial craft and was used to train US Pilots. He also claimed to have worked with an extraterrestrial being named "J-Rod" and described as a "telepathic translator".[50] In 2004, Dan Burisch (pseudonym of Dan Crain) claimed to have worked on cloning alien viruses at Area 51, also alongside the alien named "J-Rod". Burisch's scholarly credentials are the subject of much debate, as he was apparently working as a Las Vegas parole officer in 1989 while also earning a PhD at SUNY.[51]
Portrayal in media and popular culture
Novels, films, television programs, and other fictional portrayals of Area 51 describe it—or a fictional counterpart—as a haven for extraterrestrials, time travel, and sinister conspiracies, often linking it with the Roswell UFO incident. During the 1996 action film Independence Day, the United States military uses alien technology captured at Roswell to attack the invading alien fleet from Area 51. The "Hangar 51"[52] government warehouse of the Indiana Jones films stores, among other exotic items, the Ark of the Covenant and an alien corpse from Roswell. The television series Seven Days takes place inside Area 51, with the base containing a covert NSA time travel operation using alien technology recovered from Roswell.
See also
References
General
Specific
---
Classified Aircraft Hangars
Hangar 18
Hangar 18 is the largest hangar in the Area 51 complex. It is 100 feet tall and 300ftx300ft wide. Rumor has it that this hangar is a secret entrance to a large underground facility. It is believed that the most TOP SECRET craft are stored in a large underground vault and moved up inside the hangar from underground by elevator, much like the planes on the flight deck of an aircraft carrier.